This is the story of Mildred Nkhata, although similar stories are played out daily in the developing nations of the world. She is undoubtedly a very special person. She is a single parent with two children, Luwa a 7 year old girl and Rainford, 4 years. They live together in Chitambo, Zambia. Their living is subsistence in a home no bigger than a garden shed. Every day, Mildred takes her large tub and collects about 10 gallons of water from the new village pump now only about 1/3 mile away, but she does that twice per day.
Luwa will collect about 5 gallons. Even though she lives quite close to a clean water source she and Luwa still have to walk along dirty and uneven paths. Mildred's story doesn't stop here…………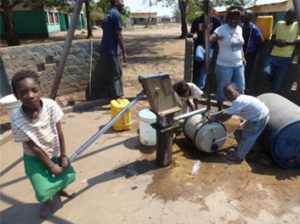 The Rest of the Story
You, see Mildred and her family were blessed with a life changing gift, a rolling Rotary Barrel. When she received her 8 gallon Rotary Barrel she was overcome, squeezing the hand of Rotarian Anna in appreciation…. Mildred was at a loss for words. Collecting water is now something these children look forward to….. By removing the arduous task of carrying water on her head….we make her life and her children's, so much easier.
So what is so special about Mildred and her family apart from the fact they rarely, if ever complain? Well, Mildred is totally BLIND!!!!! …and has been since the age of 2.
Too big to accomplish alone and too important not to do together…….
The Need
Everyday, sometimes many times a day, women and children fetch water for their homes. Stories like this are played out in countries all over the world. Consuming many hours of valuable time that could be used for more worthwhile activities, such as attending school and growing a garden.
The Solution
The primary reason for Roll Out The Barrel-US is to extend the availability of this life changing device and water filters to those in the Western Hemisphere and the rest of the world. We intend that women and children, and the elderly who collect water, even from the closest of water sources, will no longer need to carry it, by hand, on their backs and heads, or over their shoulders. This heavy burden will be lifted by providing them with a simple push/pull Rotary Water Barrel that costs only $50 US.
Some benefits of Rotary Barrels
Quicker and easier to collect potable water
Much less strenuous and dangerous for children's health
Easier to collect more water than traditional methods
Reduced loss through spillage
Less trips per day/week to and from the water source
Time to do more important things, such as attending school
Many of these advantages may appear small, but the ongoing cumulative improvements they provide to the well-being of the least of these cannot be underestimated.
Unless someone like you cares a whole awful lot, nothing is going to get better. It's not.   Dr.Seuss
"Care & Share" will redirect you to easy and secure donations on FlipCause.Com